Peppersauce – Hexagonal Green
Peppersauce
Gothic or Cathedral Design
Hexagonal – American

Medium Green
Provenance: Lou Pellegrini Collection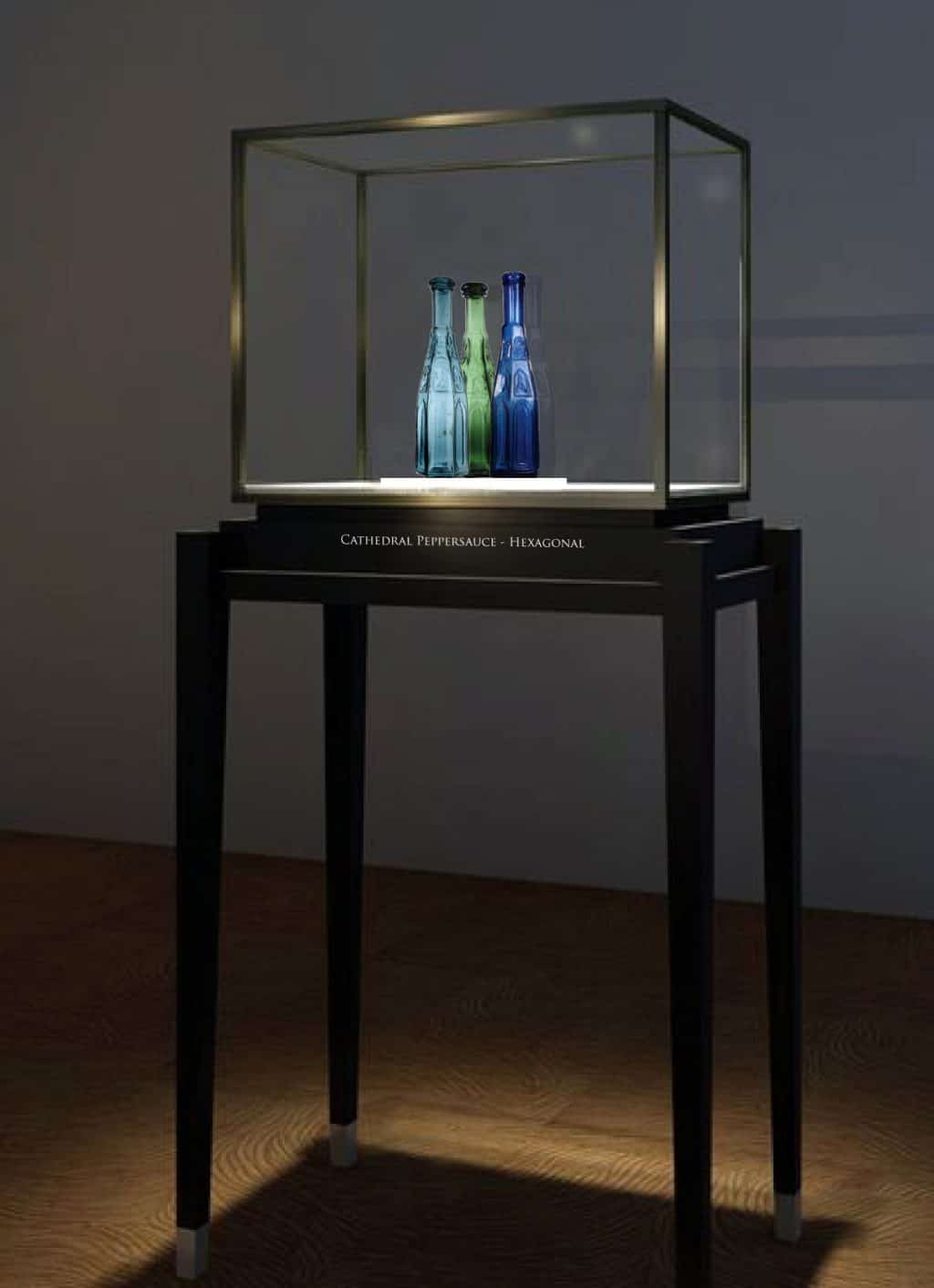 Sauces and condiments for foods were marketed as a necessity prior to the food preservation advances of the 20th century. The foods available during the 18th and 19th centuries were often bland, of dubious quality and origin and effective date-stamping did not exist. This led the way for the preparation and use of a wide variety of sauces to either enhance the food flavor or cover up any off-flavors.
Early 19th-century newspapers and city directories often contained advertisements for sauces such as cayenne in Boston around 1807. These were probably homemade and similar to the English sauces. Sometime between 1840 and 1860, J. McCollick & Company of New York City produced a Bird Pepper Sauce in a large Gothic or cathedral style bottle that was nearly eleven inches tall. We also know that in 1849, England's Lea and Perrins Worcestershire Sauce was first imported into the United States via New York City. There are scores of advertisements for pepper sauces without brand identification indicating that further merchandising would take place and product labels would have been adhered to bottles and sold by local merchants.
Sauce bottles such as pepper sauce, catsup/ketchup, and club sauces are typically tall and narrow with narrow mouths reflecting their more or less liquid and pourable nature. These somewhat uniquely shaped bottles were probably manufactured by various processes such as free-blown, dip molded, or two or three-piece molded, and would have pontil scarred or smooth bases and date from the 1830s to 1870s era.
One of the earliest of the distinctly American bottle styles strongly identified with sauces was the Gothic or "cathedral" design. Glassmakers universally called this style Gothic as in Gothic pepper sauce and the term "cathedral" really does not appear in glassmakers catalogs as this designation is more of a modern era name. These designs originated during the mid-19th century Gothic Revival period in America and Europe which also had its effects on the architecture of the period. This style all share the distinction of having varying sized peaked "church window" like panels on most or all of the sides. We have many early Gothic or cathedral pickle bottles in our museum.
See the museum example of hexagonal Cathedral Pickle Jars
See the museum example of Cathedral Pickle – Gardner 325
Our museum examples of medium green and light-to-medium blue glass pepper sauce bottles are Gothic in design with hexagonal bodies tapering to a long cylindrical neck and a round collar applied mouth with bevel. The green example has a smooth base on a sunken disk. The blue example has a rough pontil on a recessed sunken disk. The bottle sides have sunken Gothic arches with beveled sides. There are narrow inner frames on tapered panels on the shoulders with a trefoil ornament. One or more of the tall smooth "window" panels could have been used for a paper label. The capacity is about 7 oz. The blue bottle measure 9 inches tall.
See the museum example of a light blue peppersauce bottle.
See the museum example of a cobalt blue Peppersauce bottle.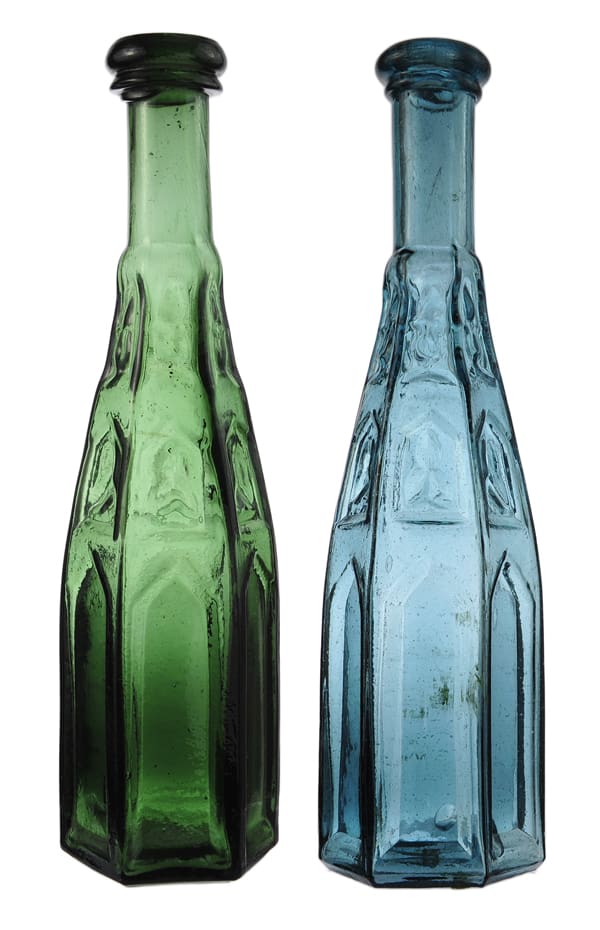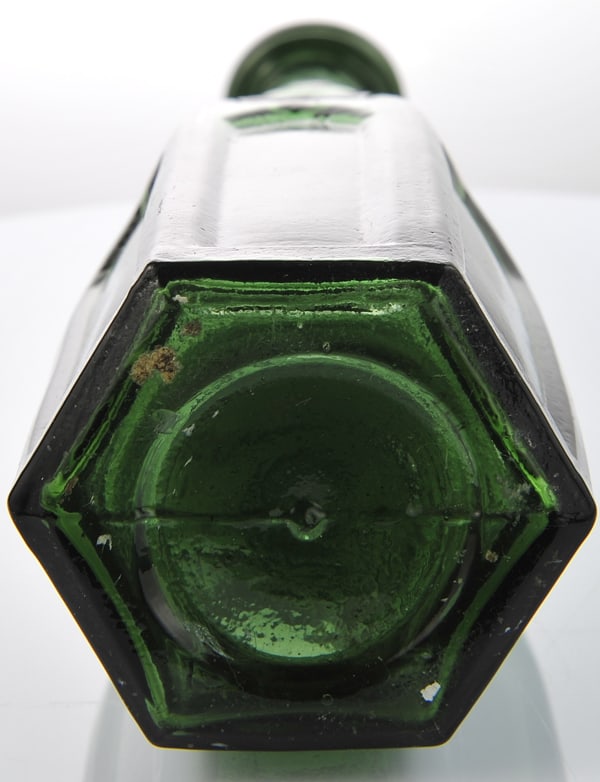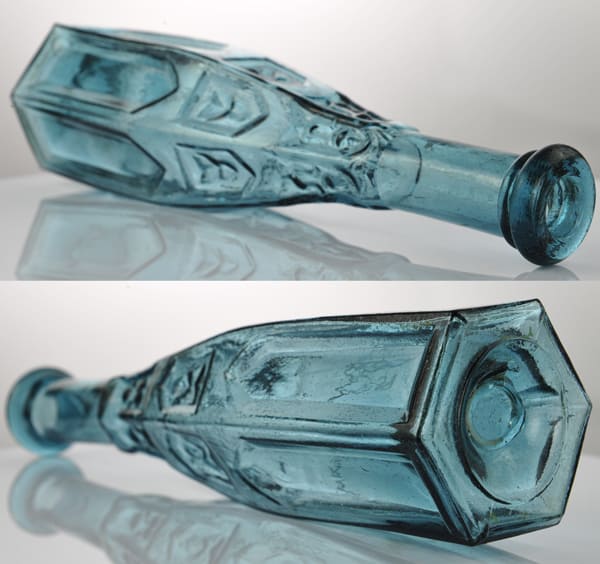 Gothic sauce bottles were made in both square and hexagonal cross-section shapes and are often quite ornate in appearance which was an early and apparently successful attempt to use packaging to attract the eye of potential purchasers by stylistically emulating the already popular Victorian Gothic design elements of the 19th century.
Both the four-sided square and six-sided hexagonal designs seem to have appeared about the same time in the 1840s and both shapes continued in use to some degree as late as the early 20th century although both configurations of the style were most popular from about 1850 through the 1880s. These Gothic pepper sauce bottles and the related pickle types were common products from dozens of different glass-making concerns during the era of popularity.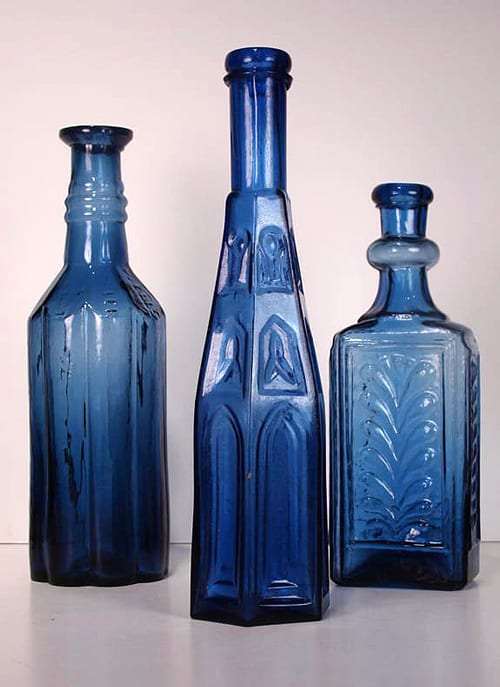 Support Primary Images: Green, light blue, and cobalt blue peppersauce bottles imaged by the FOHBC Virtual Museum west coast studio by Gina Pellegrini.
Support: Reference to Historic Glass Bottle Identification & Information Website
Support: Reference to American Bottles and Flasks and Their Ancestry by Helen McKearin and Kenneth M. Wilson, Crown Publishers Inc., New York, 1978.
Support: Reference to Ketchup Pickles Sauces – 19th Century Food in Glass by Betty Zumwalt
Support Image: Auction Lot 20: Two Cathedral Peppersauce Bottles, America, 1845-1860. Square with beveled corners and hexagonal, both have fancy cathedral arches, lime green and ice blue, applied double collared mouths – smooth base and iron pontil scar, ht. 8 3/8 inches and 8 3/4 inches. Similar in form to Z pg. 455, top right Wonderful examples in both color and form. Fine condition. Ed & Sherry Losacano collection. – Norman Heckler, Norman C. Heckler & Company
Support Image: Auction Lot 16: Cathedral Peppersauce Bottle, America, 1845-1860. Square with beveled corners and fancy cathedral arches, deep bluish aquamarine, applied double collared mouth – iron pontil mark, ht. 10 inches; (shallow 3/16 inch surface bubble on one plain arched panel has disturbance of cover glass). Similar to Z pg. 455, top right A pretty color and appealing size. Generally fine condition. Dr. Charles and Jane Aprill collection. – Norman Heckler, Norman C. Heckler & Company, Auction #174
Support Image: Auction Lot 68: Cathedral Peppersauce Bottle, America, 1860-1880. Square with beveled corners and fancy cathedral arches, bright green, applied double collared mouth – smooth base, ht. 8 1/2 inches. Similar in form and construction to Z pg. 455, top right Crisp and clean with a pretty green color. Fine condition. Dr. Charles and Jane Aprill collection. – Norman Heckler, Norman C. Heckler & Company, Auction #174
Support Image: Auction Lot 110: Cathedral Peppersauce Bottle, America, 1840-1860. Square with beveled corners and arched panels, aquamarine, applied double collared mouth – pontil scar, ht. 8 5/8 inches; (overall interior and exterior wear, 5/8 inch open bubble on edge of base). Similar in form and construction to Z pg. 455, top right A crude example. Dr. Charles and Jane Aprill collection. – Norman Heckler, Norman C. Heckler & Company
Support Image: Auction Lot 133: Cathedral Peppersauce Bottle, America, 1860-1880. Hexagonal with fancy cathedral arches, medium to deep aventurine green, applied double collared mouth – smooth base, ht. 8 5/8 inches; (1/4 inch chip from lower ring of mouth). Form similar to Z pg. 435, center A rare and beautiful rich green color. Generally fine condition. Dr. Charles and Jane Aprill collection. – Norman Heckler, Norman C. Heckler & Company
Support Image: Auction Lot 149: Cathedral Peppersauce Bottle, America, 1840-1860. Hexagonal with fancy cathedral arches, light to medium blue green, applied double collared mouth – pontil scar, ht. 8 7/8 inches. Form similar to Z pg. 435, center Wonderful glass clarity and color. Fine condition. Dr. Charles and Jane Aprill collection. – Norman Heckler, Norman C. Heckler & Company
Support Image: Auction Lot 194: Cathedral Peppersauce Bottle, America, 1880-1900. Hexagonal with cylindrical base and fancy cathedral arches, colorless with a greenish tone, tooled double collared mouth – smooth base, ht. 8 3/4 inches. An unusual and attractive design. Fine condition. Dr. Charles and Jane Aprill collection. – Norman Heckler, Norman C. Heckler & Company
Support Image: Unique blue cathedral pepper sauce unknown in this depth of color; embossed open pontil "Provost, Miller, Wells" pepper sauce, beautiful whittle; a wonderful rectangular "plume" fancy cologne, also beautiful whittle, open pontil. – The SAXE Collection – Glass International Auction 24