L&W
L & W (Script)
Lorenz & Wightman, Pittsburgh, Pennsylvania
Yellow Green Wax Sealer Quart
Provenance: Phil Smith Collection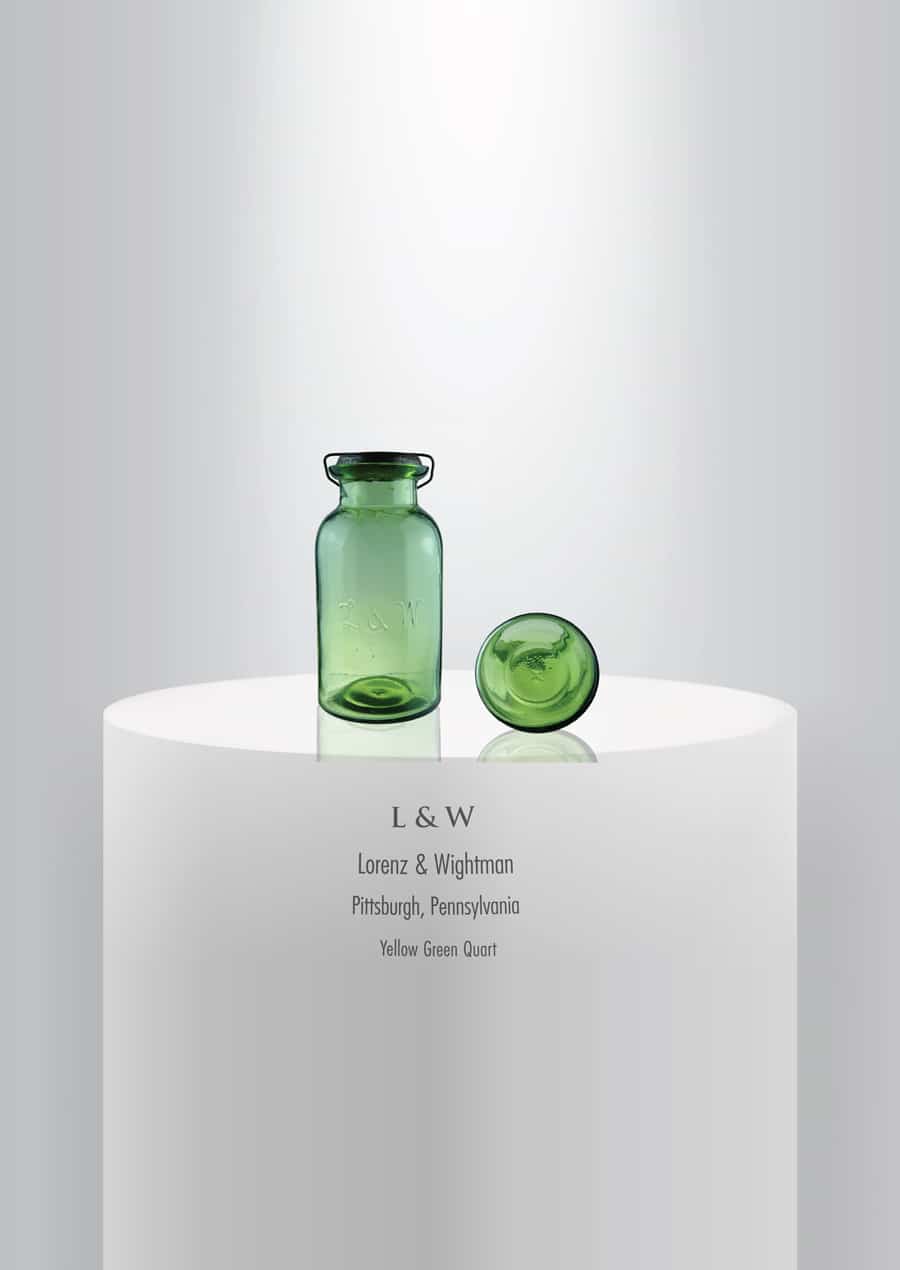 Our cursive "L & W" jar stands for Lorenz & Wightman, two important pioneers in glass manufacturing who operated together in Pittsburgh, Pennsylvania, from 1863 to 1873.
Thomas Wightman, Moses A. Lorenz, and Alexander W. K. Nimick formed Lorenz & Wightman in 1863. Moses Lorenz died in 1871, and the company continued to operate under the same name until 1873. That same year, the partnership of the third generation (for Lorenz, second generation for Wightman) dissolved, and the firm of Thomas Wightman & Co. was born. Wightman altered and eventually made new molds with the same script, "W."
See the museum example of a "W (Script) Wax Sealer" jar. The "W" stands for Wightman.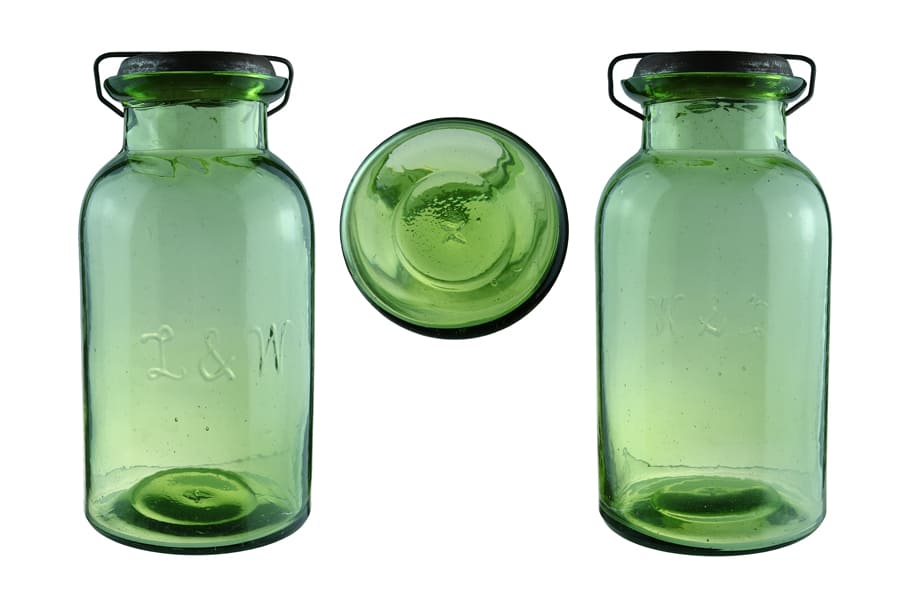 Our straight-sided yellow-green or citron quart jar is embossed 'L & W' in a horizontal cursive script on the face of the jar. There is letterspacing between each character. The jar is handblown with a tooled applied lip. The closure is a wax seal with a grooved ring and a metal cap with a wire clamp. The base is embossed with a small four-pointed star. The glass color is extraordinary for this jar, typically found in aquamarine quarts and half-gallons.

There are versions of the wax sealer with ghosted letters and typographic variations. These jars have the initials embossed in large cursive characters on the jar sides reading "L & W's XL." The "XL" may have inferred "excel." The jars embossed "PET" on the front had the "L&W" initials on the reverse and were finished for the T.G. Otterson patent of August 31, 1869. No reason for the "PET" name has been established, and possibly it was an arbitrary choice. In some cases, the "L" and "W" typography varies slightly, and there are distinct variations in the ampersand and slant of the letters.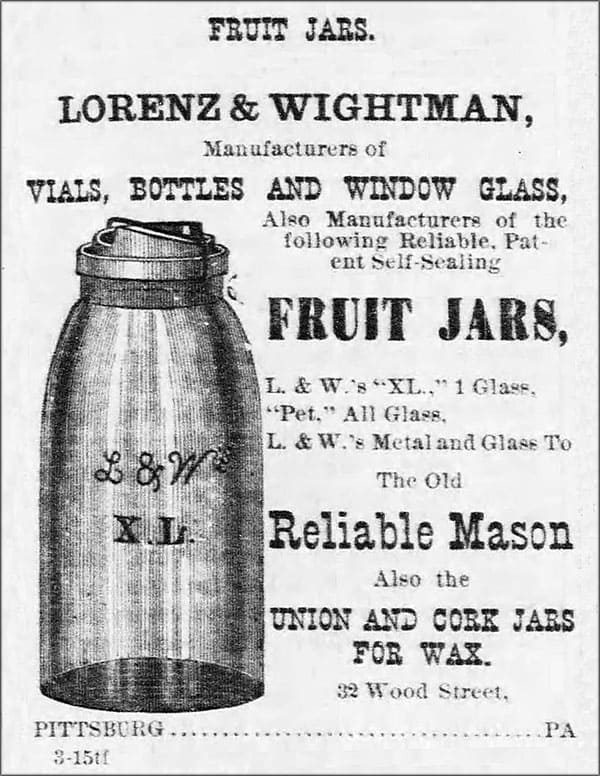 According to the 1873 advertisement above, Lorenz & Wightman were "Manufacturers of Vials, Bottles and Window Glass, Also Manufacturers of the following Reliable, Patent Self-Sealing Fruit Jars, L. & W.'s "XL.," 1 Glass, "Pet," All Glass, L. & W.'s Metal and Glass To The Old Reliable Mason, Also the Union and Cork Jars for Wax. 32 Wood Street, Pittsburg, Pa."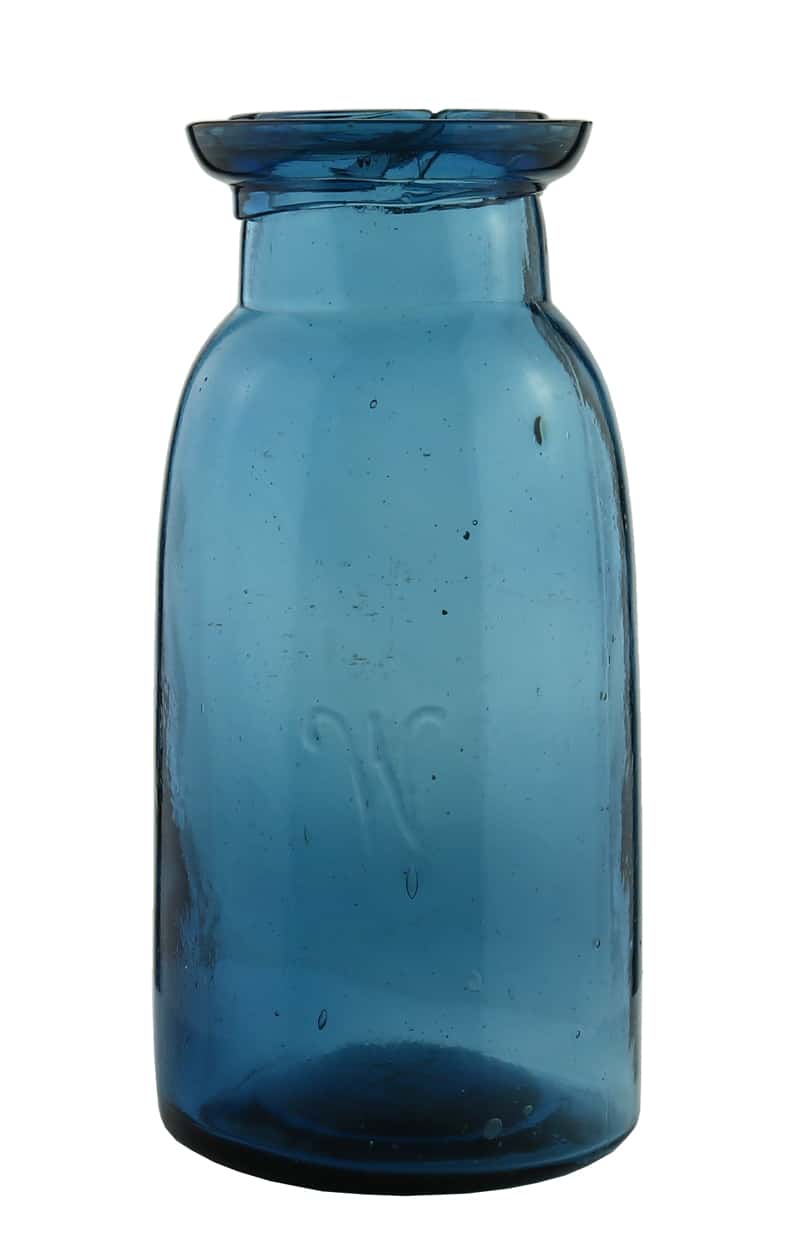 Primary Image: The "L & W" jar imaged on location by Alan DeMaison, FOHBC Virtual Museum Midwest Studio.
Support Images: Image of three examples of L&W cursive or script lettering on aqua jars – Greg Spurgeon, North American Glass
Support Image: L&W Patd Dec 6 1870 Square Tin Lid for Jelly Jar. Size: about 3-¼" tall. Color: Colorless. Closure: Original slide-on tin cap with "L&W" logo (for Lorenz & Wightman of Pittsburgh) and "PATd DEC 6TH 1870" – Greg Spurgeon, North American Glass
Support Images: Auction Lot 2772: PET Rev: L&W Aqua Quart, Aquamarine, Closure: Correct original glass lid with 1869 patent date, and a replica wire clip. Appearance: Shiny. Condition: No damage. Strength of embossing: Strong. Base: Unmarked. Age: late 1800s. Availability: scarce – Greg Spurgeon, North American Glass
Support: Reference to The Lorenz Family Glass Companies (including Lorenz & Wightman) by Bill Lockhart, David Whitten, Beau Schriever, Bill Lindsey, and Carol Serr.
Support: Reference to Fruit Jar Annual 2020 – The Guide to Collecting Fruit Jars by Jerome J. McCann
Support: Reference to Red Book #11, the Collector's Guide to Old Fruit Jars by Douglas M. Leybourne, Jr. Use of Creswick illustration granted by Doug Leybourne.
Join the FOHBC: The Virtual Museum is a project of the Federation of Historical Bottle Collectors (FOHBC). To become a member.