Lacour's Sarsapariphere Bitters
Lacour's Sarsapariphere Bitters
L 3

L. Lacour & Co., San Francisco, California

Mint Green Figural Lighthouse
Provenance: Anonymous (ex: Robert Frank Collection)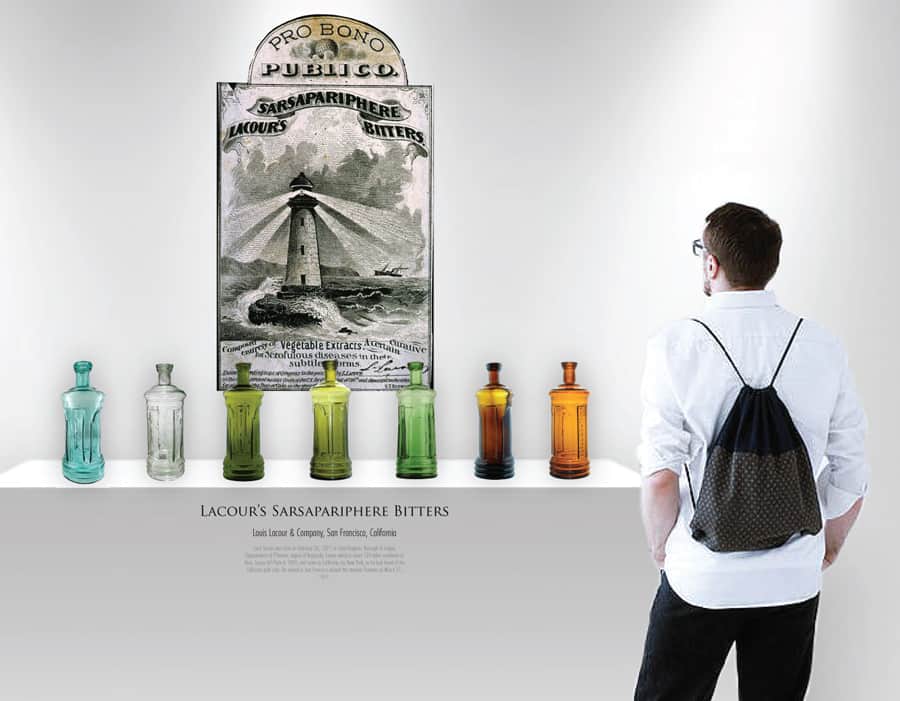 This figural lighthouse bottle is embossed Lacour's Sarsapariphere Bitters and is one of the most desired western bitters. The bottle has a great form and can be found in some exciting glass colors.
Louis Lacour was born on February 26, 1821, in Saint-Fargeau, Borough of Joigny, Departement of l'Yvonne, region of Burgundy, France which is about 120 miles southeast of Paris. Lacour left Paris in 1849, and came to California, via New York, as he had heard of the California gold rush. He arrived in San Francisco aboard the steamer Panama on March 21, 1851.
Lacour began his mining activities in the vicinity of Sonora where he continued his search for the elusive metal until 1854, when he went back to France for a short period. He returned to San Francisco on June 1, 1855, and again went to Sonora. He finally returned to San Francisco in September 1856 where he was employed as a clerk for the liquor business A. Barbier & Co. Barbier also maintained a store in Sonora which is where their association may have begun.
After the dissolution of Barbier's business in 1858, Lacour worked for Jean Castera, another Frenchman and wholesale liquor dealer in San Francisco. By late 1859, the company was renamed Castera & Lacour which reflected an equal partnership.
Eventually, after dissolving his partnership with Castera, Lacour established his own business, Louis Lacour & Co., as importers and wholesale dealers in brandies, champagnes, and wines located at 206 and 208 Jackson Street, San Francisco.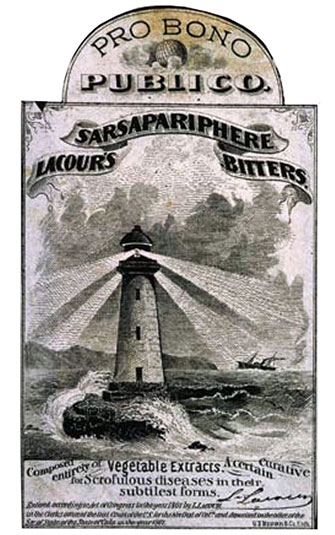 In 1866, Louis Lacour filed to claim the name "Sarsapariphere Bitters" for a new product he began advertising in May 1867. The bottle design received a patent in February 1868 along with a trade mark for his product resembling a lighthouse. The bottle, cork, label, box, and bitters were all made in San Francisco.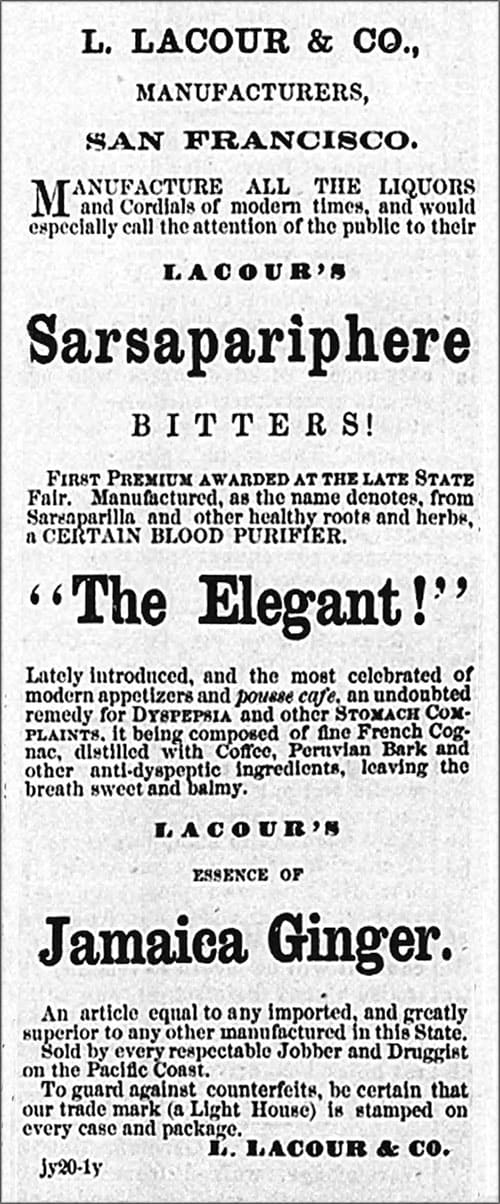 L. Lacour & Co. said that the bitters they manufactured was awarded First Premium at the California State Fair. The bitters was comprised of sarsaparilla as the name implies, healthy roots and herbs, and was marketed as a blood purifier. Louis Lacour also manufactured a cordial called "The Elegant" and Lacour's Essence of Jamaica Ginger.
Three different molds were made and used for the Lacour' Bitters bottles with subtle differences in each. The primary museum bottle in mint green is the earliest Variant 1 having the closest details to the original bottle design patent drawing and comes in many different colors.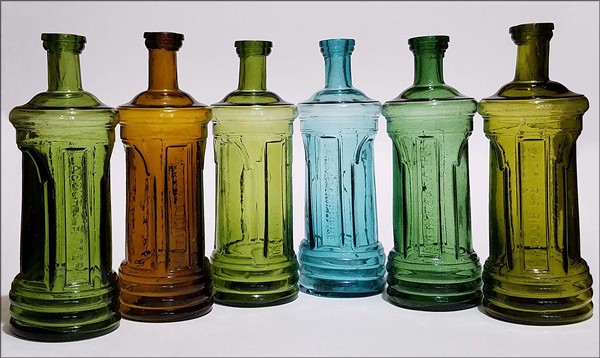 We have a second Variant 2 Lacour's Sarsapariphere Bitters in amber in the Virtual Museum from the Steven Hubbell collection. This example, in particular, is special because of its two-tone amber coloration.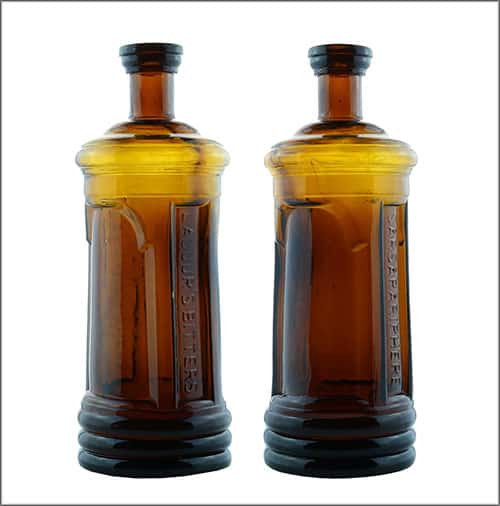 The Carlyn Ring and W.C. Ham listing in Bitters Bottles is as follows: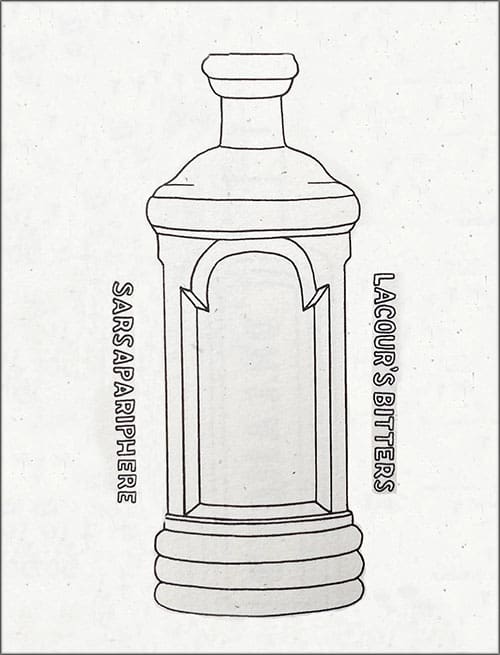 L 3 LACOUR'S BITTERS // c // SARSAPARIPHERE // c //
9 x 3 ½ (6 ½ )
Round, Lettering in sunken side panels, NSC, Applied mouth,
Amber and Greens – Rare; Aqua – Extremely rare.
3 ring pedestal
There are three distinct mold variants.
The design was based on a lighthouse.
Primary Images: Both Lacour's Sarsapariphere Bitters imaged on location by the FOHBC Virtual Museum midwest studio led by Alan DeMaison.
Support: Reference to Louis Lacour by By Eric McGuire and Warren Friedrich in the May-June 2010 issue of Bottles and Extras
Support: Reference to Bitters Bottles by Carlyn Ring and W. C. Ham. Use of Lacour's Sarsapariphere Bitters illustration courtesy Bill Ham.
Support Images: Examples from the Dale Mlasko collection, Ferdinand Meyer V collection and American Bottle Auctions.
Support Image: Amber example (Variant 2 front & back paired) from the Lou Pellegrini collection. Imaging by Gina Pellegrini for the Virtual Museum.
Support Image: Green example (Variant 1 front & back paired) from the Steven Hubbell collection. Imaging by Alan DeMaison for the Virtual Museum.
Support Image: Lacour's Sarsapariphere Bitters color run – Warren Friedrich collection.
.