Burns' Catarrh Cure
Burns' Catarrh Cure
Burn's Catarrh Cure Co., Poplar Bluff, Missouri
Rectangular Aquamarine Medicine
Provenance: Bob Jochums Collection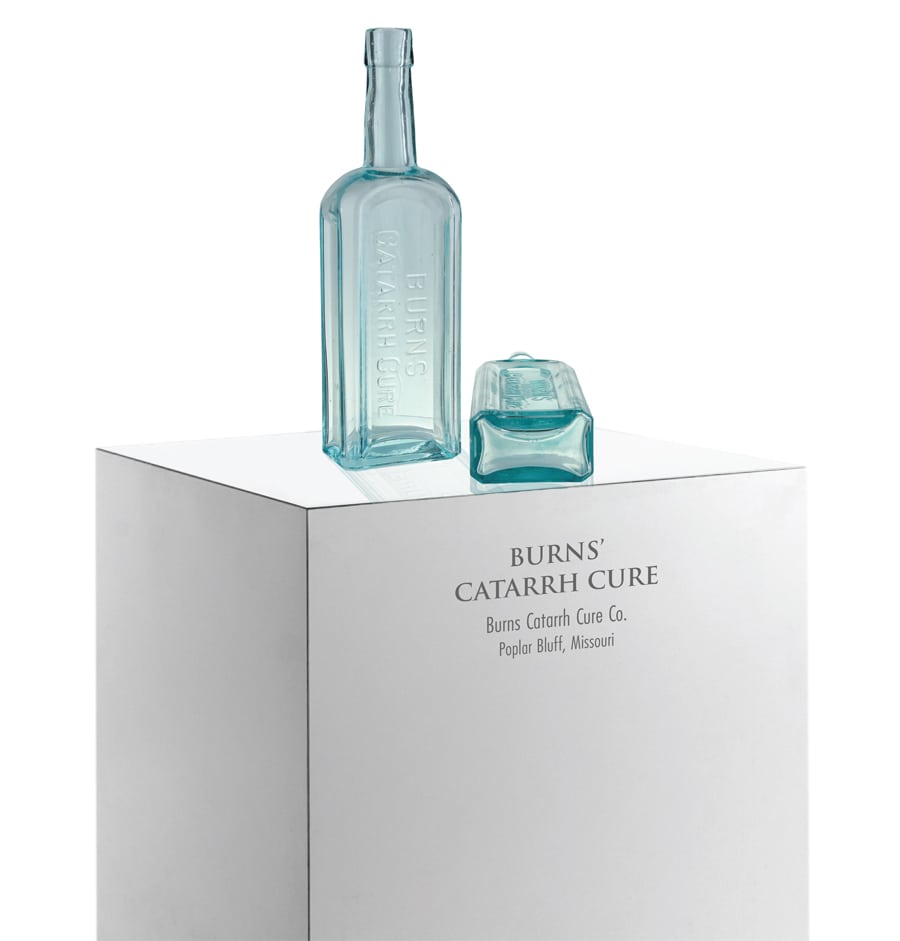 Burns' Catarrh Cure was on the market for a short period from the mid-1890s to 1904, when advertising ceased. By then, it was probably just shelf stock being sold for a discount from the regular price of $1 a bottle.
William H. Burns is first referenced in 1895 Burns' Catarrh Cure advertising as residing in Wayne, Arkansas. A few years later, Burns Catarrh Cure Co. in Poplar Bluff, Missouri, started appearing in newspaper ads, most using testimonials. Small towns and cities were blanketed with newspaper ads focusing on Little Rock, Arkansas, where most druggists stocked the cure: "To those who have not used it or heard of it, ask the following druggists whether Burns' Catarrh Cure is not the leading catarrh remedy sold in the Little Rock market." (Arkansas Democrat, December 16, 1899)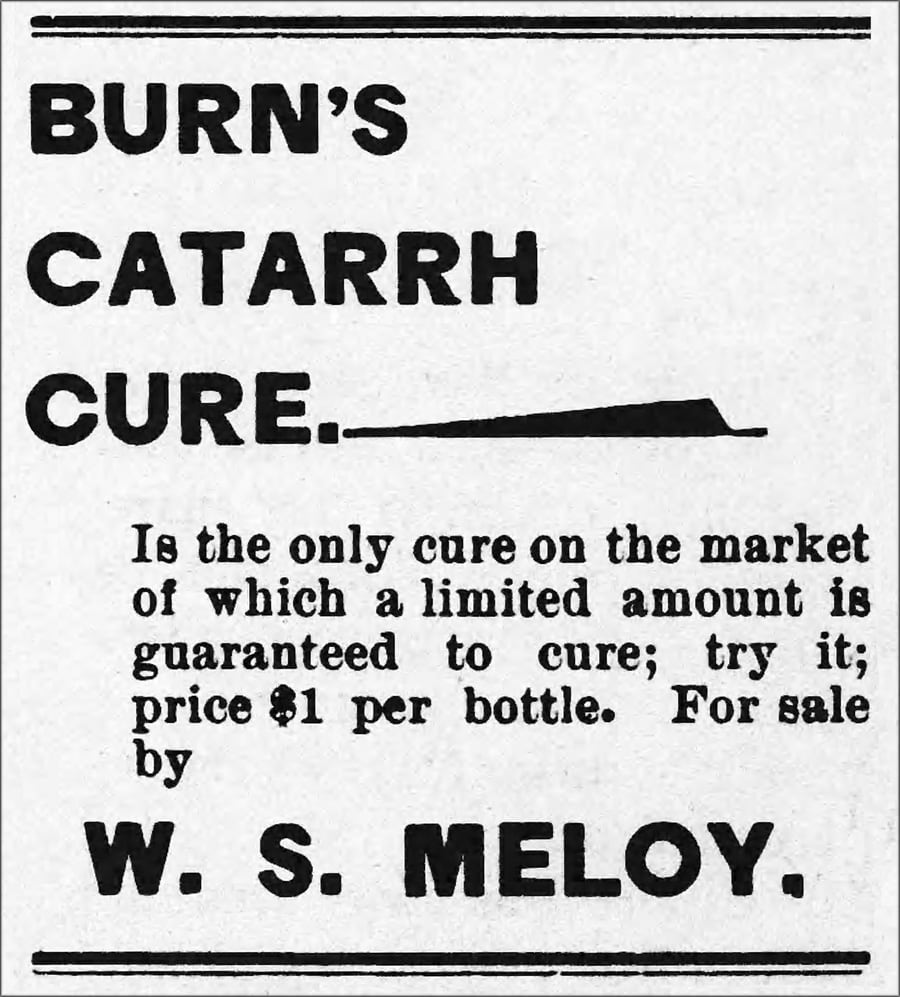 There is a mystery associated with this cure as there is a sole advertisement in the Concordia Republican (Kansas) in 1880 that reads, "Use Burn's Catarrh Cure, at City Drug Store." No additional information nor confirmation that W. H. Burns was in Kansas has surfaced.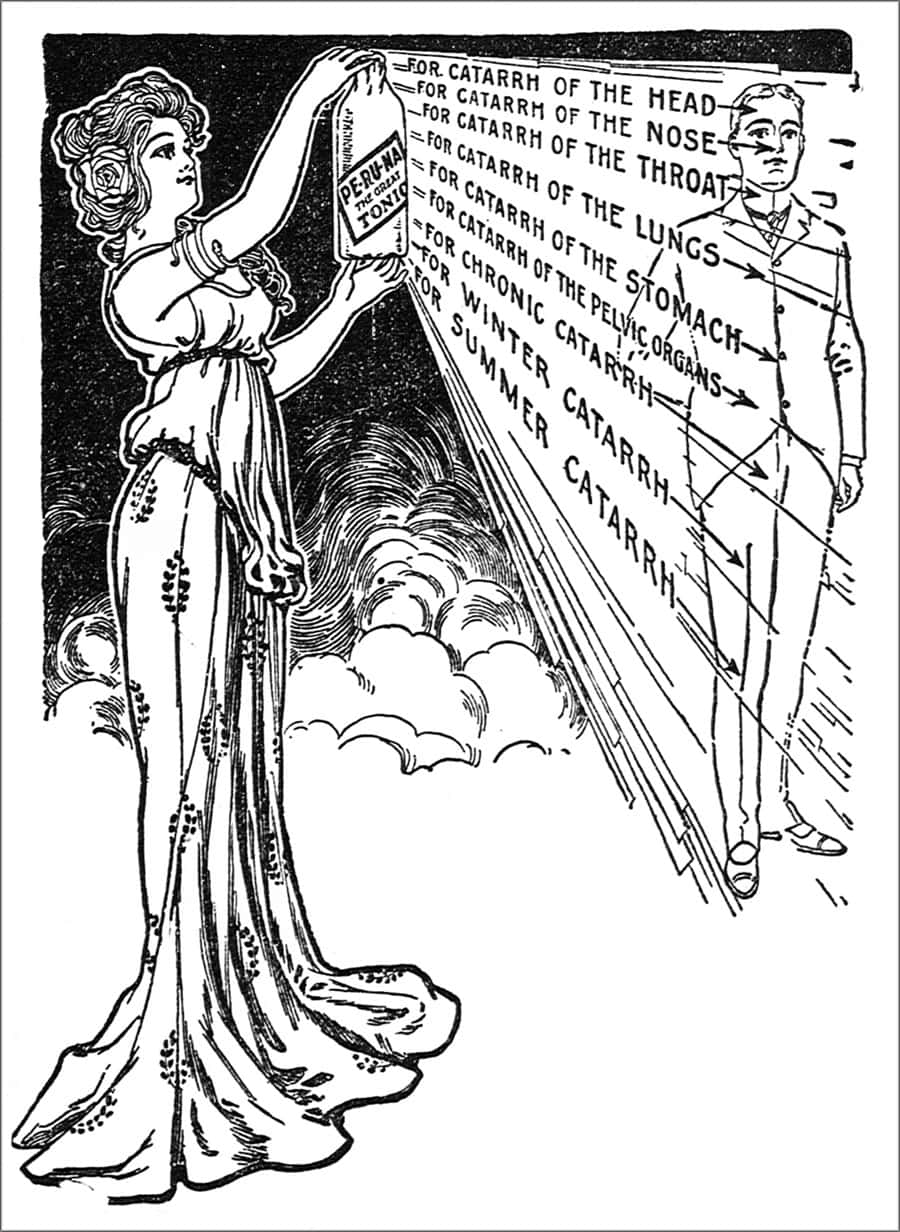 During the last decades of the 19th century, the public must have been terrified of the word "catarrh." Many opportunists saw this fear and offered a cure and remedy, whether it worked or not. "PE-RU-NA The Great Tonic" ran large illustrated advertisements saying that half of our ills were catarrhal in nature and that catarrhal diseases were most prevalent in winter. They warned that the winter climate was sure to bring colds and that if colds weren't promptly cured, they would cause catarrh. If improperly treated, Catarrh was sure to make life short and miserable! Advertisements cast a large net and said that catarrh would spare no organ or function of the body and was capable of destroying sight, taste, smell, hearing, digestion, secretion, assimilation and excretion, and that it pervades every part of the human body, head, throat, stomach, bowels, bronchial tubes, lungs, liver, kidneys, bladder and other pelvic organs. This set the stage for many local, regional and national cures focusing on catarrh.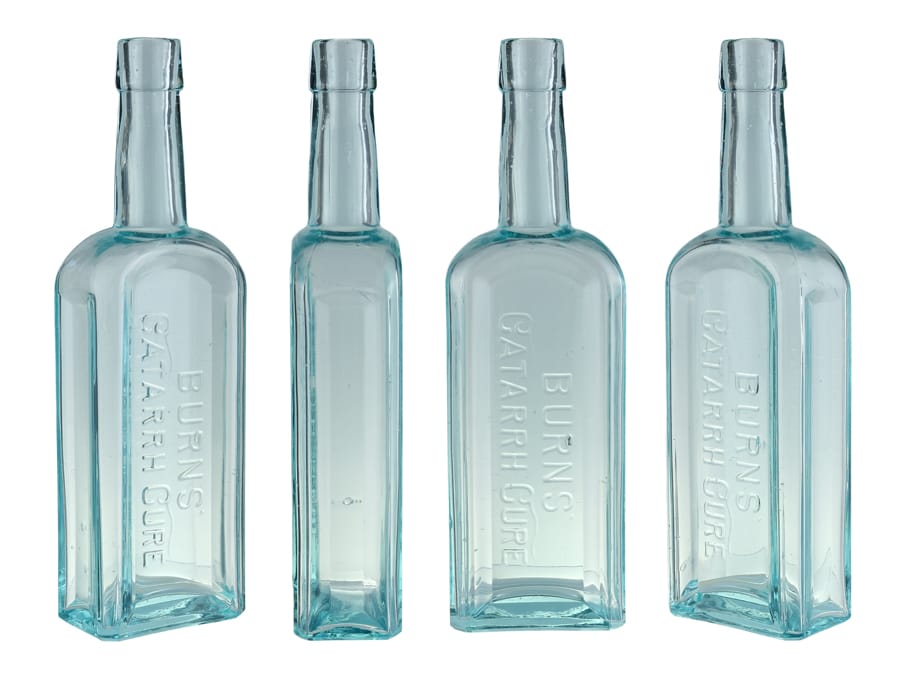 Our rectangular aquamarine bottle is in excellent condition and measures 9¼ x 2¾ x 1¾ inches. There are three inset beveled panels. The front panel is embossed in thin sans serif type in two centered, shoulder-to-base lines: 'BURNS' CATARRH CURE.' Both "C's" are decorated with a curly top hook connected to a flourish that traverses above the following copy. The opposite flat panel side would have contained a paper label. The bottle has a tall neck, a long tapered collar and a smooth base and came from the Kevin Kelly collection.

Primary Image: Burns Catarrh Cure bottle imaged on location by Alan DeMaison, FOHBC Virtual Museum Midwest Studio.
Join the FOHBC: The Virtual Museum is a project of the Federation of Historical Bottle Collectors (FOHBC). To become a member.