Dorlon & Shaffer Pickled Oysters
Dorlon & Shaffer
Pickled Oysters
Fulton Market
New York

Sidney Dorlon & George H. Shaffer

Cohansey Glass Manufacturing Company
Philadelphia, Pennsylvania
Aquamarine, Pint+
Provenance: Jerry McCann Collection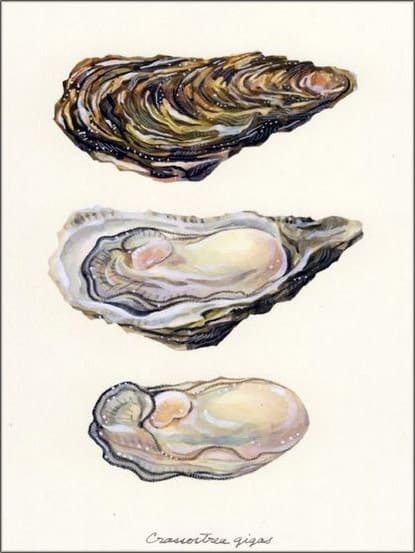 Pickled oysters were very popular in the United States from the mid to late 1800s to the early 1900s, especially during the Christmas season. New York City and the waters surrounding it were once the richest oyster beds in the world.
Our jar, aquamarine in glass color, is embossed 'DORLON & SHAFFER PICKLED OYSTERS' which was a product of one of the most famous oyster stands in America. Dorlon & Shaffer were located at Fulton Market in New York, which is also embossed on the face of the jar. The jar was made by the Cohansey Glass Manufacturing Company of Philadelphia. This information is embossed on the glass lid and bottom of the jar. The jar is larger than a pint but smaller than a quart.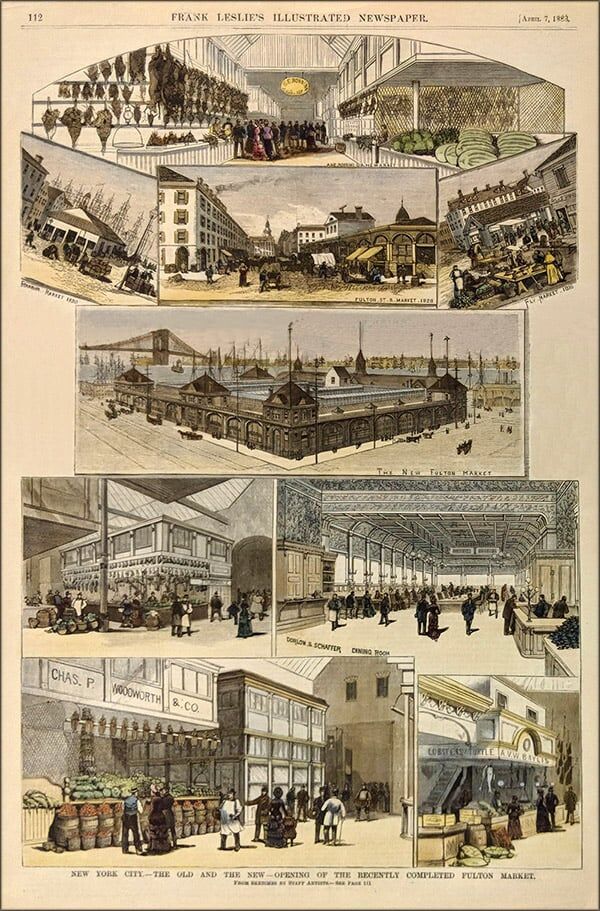 Fulton Market was located in lower Manhattan, near the Brooklyn Bridge which opened in 1883, just a few blocks from Wall Street. The market first opened at that site in 1807 on land donated to New York City, and at first, was a general market for both fish and goods other than fish. In 1822, the fish merchants occupied a new Fulton Fish Market building, located on South Street between Fulton and Beekman Streets. Prior to 1850, housekeepers from Brooklyn and nearby areas would purchase fish directly from the market. Since that time, wholesale customers were the primary buyers. At one point, 25 percent of all seafood sold in the United States came from the market.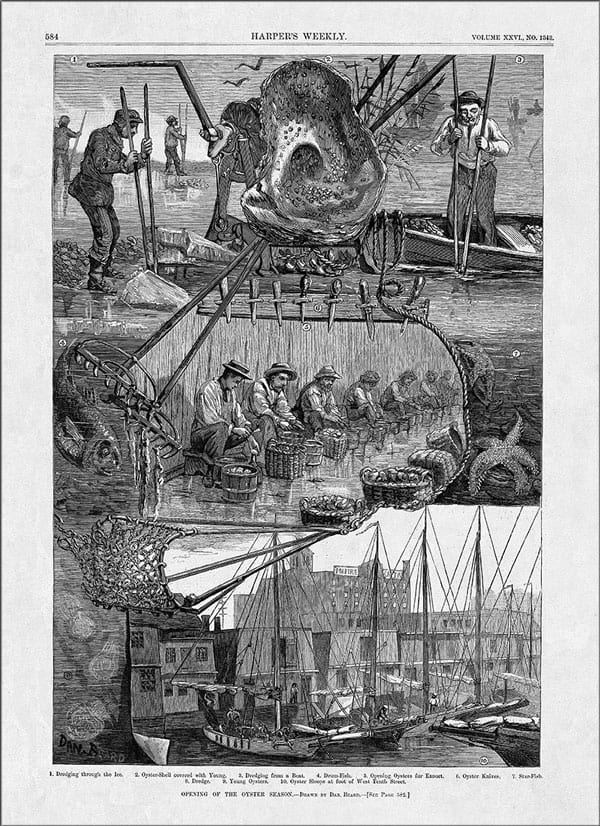 Prior to Dorlon & Shaffer the firm of A. & P. Dorlon was formed in 1836, with Alfred and Philetus Dorlon as partners. Alfred actually conceived the idea of such an establishment and was a well-known resident of the city. The brothers were practically the originators of the business of being Oyster Dealers. This trade subsequently made them famous not only in New York and Brooklyn but in all the adjacent cities and among most of the regular visitors to New York City in those early years.
An 1843 advertisement stated that the finest pickled oysters for New Year's could be found at Dorlon & Foot's, No. 136 Beekman Street, opposite Fulton Market. Sold in any quantities, by the dozen, quart, or gallon. This was Sidney Dorlon who was the brother of Alfred and Philetus. He would later partner with George H. Shaffer when they started their own oyster stand. George Shaffer and his brother Jacob, who worked with George, were born in the 1830s in what was popularly known as the swamp, or the leather district of Manhattan, at Spruce Street. His brother-in-law was Sidney Dorlon.
Dorlon & Shaffer was established in 1859 by the above-noted Sidney Dorlon and George H. Shaffer as an oyster saloon in a little room at the South Street entrance to Fulton Market. At first, nothing was served but oysters which they said were finer, more luscious, and better cooked than anywhere else.
There were only a few small mahogany tables at which four could sit in a room that was not more than thirty feet one way and fifteen the other. There were rows of shiny pewter mugs hanging in rows about the room in which the nuttiest ale was served. There was a grill outside on the stone floor of the market, glimpses of which were caught through the swinging doors as the waiters passed in and out. Sawdust was on the floor, and everything was as clean and spick and span as one could wish.
"We had many notable men among our customers. Will Makepeace Thackeray, the famous English novelist, came in the other day and asked or a plate of saddlerock's. We gave him some extra-large ones. When he got through his companion asked him how he liked them. Thackeray replied, 'I felt as though I was swallowing a baby.' Amongst the famous Brooklyn man who visited our place were the Rev, Henry Ward Beecher, a regular visitor, General Henry W. Slocum, Mayor Frederick Schroeder and Theodore Tilton.

Jacob Shaffer
Later in a December 16, 1917 Brooklyn Daily Eagle newspaper article, Jacob Shaffer, recounted past times to a reporter.
"Years ago, we used to get our finest oysters from the Upper Bay, toward Communipaw. The effluent from the chemical works and sludge acid from the Bayonne oil refineries have affected the waters of Communipaw., Princess Bay and Raritan Bay to such an extent as to seriously injure oyster growing in all those sections.
Our sweetest and best oysters now come from Great South Bay, Cold Spring Harbor, Oyster Bay, Huntington, and Northport harbors. Within the last fifteen-or twenty-years, fine oysters have been coming in large quantities from Peconic Bay.
The seed is got from Long Island Sound, off Bridgeport and New Haven and Eaton's Neck. The oysters are grown in Peconic Bay. We used to spread about fifty bushels of spawning oysters to an acre on jungle shells and escallop shells, because the young growing oysters would break apart more readily from them and not grow in clusters, as they would if the spawn fastened to a hard surface.
We had a big oyster opening and packing house at South Norwalk where we built a dock and runway 500 to 600 feet in length. We also had one at Port Jefferson Harbor on Long Island, one at Stamford, Conn., and another at Perth Amboy.
We started our European business in a small way in 1889 and exported between fifty and sixty thousand barrels to England every year. A few went to Germany. We found that by laying down our American oysters in English waters in April we could supply them to the English markets all summer. We could not ship from America before October."
After a while, in response to demand, Dorlon & Shaffer were offering other kinds of seafood and other foods to guests. The business grew so rapidly the restaurant enlarged. The place became so popular patrons would stand about in considerable numbers and wait for seats. It was written that Sidney Dorlon himself should never be forgotten, who in his old age never changed the fashion of his coats and his hats from the time that he was twenty, neat and brisk, with a red flower always in his buttonhole.
It was reported in 1880, a few years prior to the opening of the Brooklyn Bridge, that the Dorlon & Shaffer oyster business typically opened up early in the morning, by 6 a.m., and continued until long after midnight. A large number of customers came in early from the Hartford, New Haven, and Bridgeport boats. During the noon hour, there was a big trade from the commercial houses. They had a large patronage from Brooklyn, who came over Fulton and Roosevelt street ferries, all through the day. The market was a sort of stopping place for them. They also had a big theater trade late at night from Brooklynites returning from New York City entertainments so they always maintained a night crew of cooks and waiters as well as a day crew.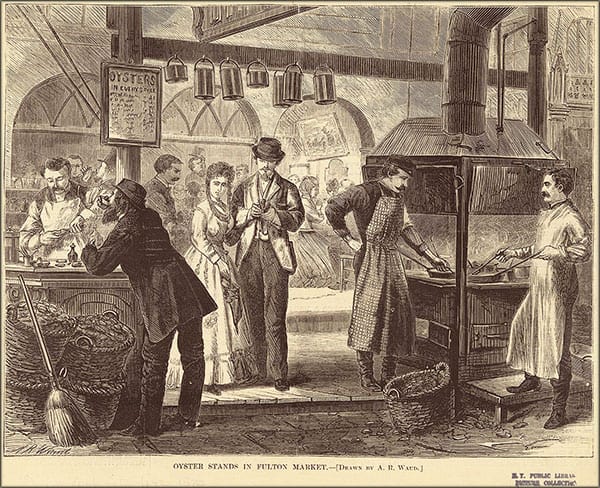 When the opening of the Brooklyn Bridge on May 24, 1883, the Dorlon & Shaffer business increased greatly. This was also the year of the construction of the new Fulton Market. An 1884 advertisement stated: Dorlon & Shaffer, of Fulton Market, N.Y. have made special preparations for serving pickled oysters for New Year tables. Having greatly enlarged and improved their facilities as compared with old market times… Orders by mail promptly attended to.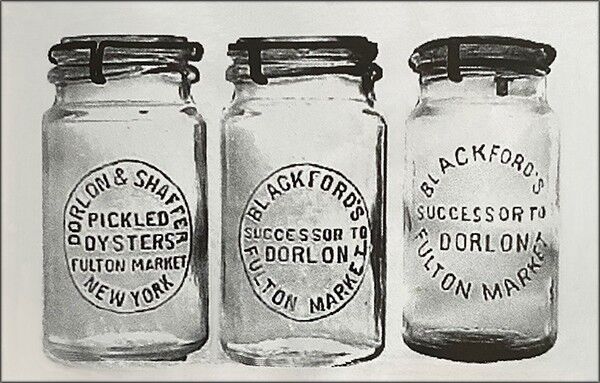 Unfortunately business would drop off for Dorlon & Shaffer. It turned out that the Brooklyn Bridge was more of a curse than a benefit as it disrupted patterns and habits. This prompted A. & P. Dorlon to buy out Dorlon & Shaffer. By this time, both of the Dorlon brothers were dead and the business was run by Adelaide Dorlon, wife of Alfred, her son Harry and George Wood. By 1891, Sidney Dorlon had also died, and his widow has retained his interest in the business with George Shaffer as her partner. On August 11, 1891, the buyout announcement was made in local and regional newspapers, "Dorlon & Shaffer is going out of business." Their space would be occupied by A. & P. Dorlon while the A. & P. stand was relinquished to Wallace E. Blackford, son of Fish Commissioner Eugene G. Blackford, who established a wholesale and retail fish trade.
George H. Shaffer died on November 13, 1910. After Dorlon & Shaffer ceased to exist, he went into the general wholesale oyster business, dealing with local, domestic and exporting overseas.
The Dorlon's and Shaffer's were pioneer oyster and seafood merchants in America and this museum jar is another example that every bottle has a story.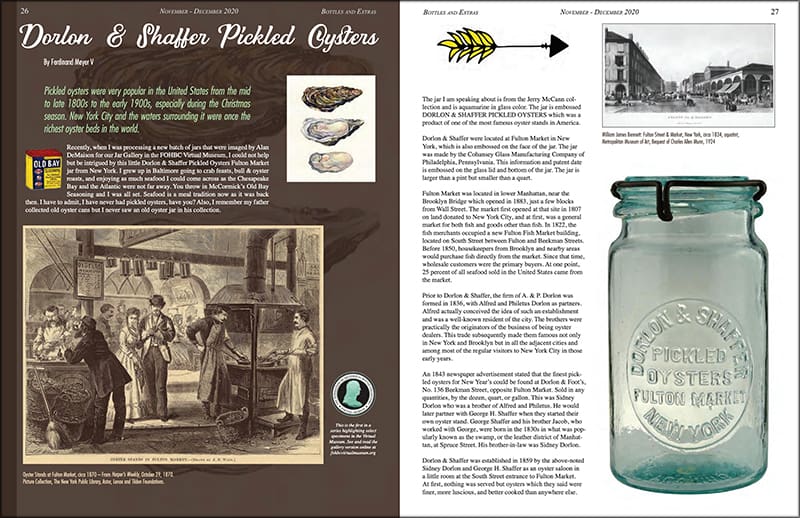 Support: Reference to Red Book #11, the Collector's Guide to Old Fruit Jars by Douglas M. Leybourne, Jr.
Support Image: Auction Lot 147: "DORLON & SHAFFER / PICKLED / OYSTERS / FULTON MARKET / NEW YORK", (SFJR, #284i), New York, ca. 1874-1890, aqua 1 ½ pint, "COHANSEY GLASS CO. PHILADA", on smooth base, ground lip has several tiny grinding chips, correct "COHANSEY GLASS MANUF. CO. PHILADA PA PATD JULY 16, 1872 / PATENTED JANUARY 18 1876" embossed glass lid and wire closure. – Jim Hagenbuch, Glass Works Auctions, Auction #147
Support Image: Auction Lot 148: "DORLON & SHAFFER / FULTON MARKET / NEW YORK – PICKLED / OYSTERS", (unlisted), New York, ca. 1880-1890, aqua, 1 ½ pint, smooth base, applied mouth. – Jim Hagenbuch, Glass Works Auctions, Auction #147
Support Image: A. and P. Dorlon 487 Fulton Market New York jar – Jeff Vanaman collection